Have you ever ate something so good that you felt like it touched your soul? I had that feeling after dining at Julia Pearl Southern Cuisine in Plano, TX. My dining experience was so wonderful that I ended up visiting this restaurant two weekends in a row. After finishing my meal I found myself entering a food-induced coma. I ended up cancelling my after dinner movie plans, because I couldn't fight the urge to go home and retire on my couch.
I moved to Dallas about five years ago and I've always felt homesick over the lack of soul food dining options available here in Dallas. Don't get me wrong we have some good soul food restaurants here in the Big D. However, I find that there are more options available back in my hometown. Whenever, I have the opportunity to fly back home to Richmond I make sure that I grab a bite from my favorite soul food restaurants. I'm happy to report that Julia Pearl has fulfilled my soul food void! I am so ecstatic to have a soul food restaurant that is not only close to home but has an upscale feel. During my last visit, I had the privilege to eat while listening to the sounds from the awesome Fingerprint's Band. There's nothing I love more than a great meal and some good tunes to go with it!
The upscale yet comfortable vibe at Julia Pearl isn't the only thing that makes the restaurant special. The service is phenomenal. I loved how management constantly walked the restaurant floor to check on guests. My waiter Brody (who served me on both visits) was extremely accommodating and attentive. Vivian, one of the owners of Julia Pearl was extremely warm and friendly. She not only welcomed me with open arms (literally) but even made me a side of her famous potato balls which were delicious! Sorry, but I gobbled them all up before getting a picture. I even saw Executive Chef, Jermaine Brown greet many diners to check on their experience. Great dining experiences aren't always just about the food. Julia Pearl clearly realizes the importance of this and has proven that they are committed to making the experience memorable. I walked in the restaurant as a guest, but left feeling like I was a part of the Julia Pearl Family.
Ok, sorry if I'm getting to sentimental. I know you all are ready to hear about the food. Since I visited this restaurant twice, I had the opportunity to try many of the menu items.
Before ordering Julia Pearl serves up some amazing cornbread. The cornbread here is sheer perfection. Seriously, Jiffy ain't got nothing on Julia Pearl. I loved how the cornbread was soft, sweet, and delectable.
Deviled Eggs with Crispy Chicken Skin. Ok, is it me or does everyone have one aunt or family that makes awesome deviled eggs? Don't act like you don't know what I'm talking about! Seriously, these deviled eggs tasted like they were made by one of my family members. However, the crispy chicken skin was a nice touch. I loved how it added flavor and crispiness to the deviled egg. I would definitely order these again.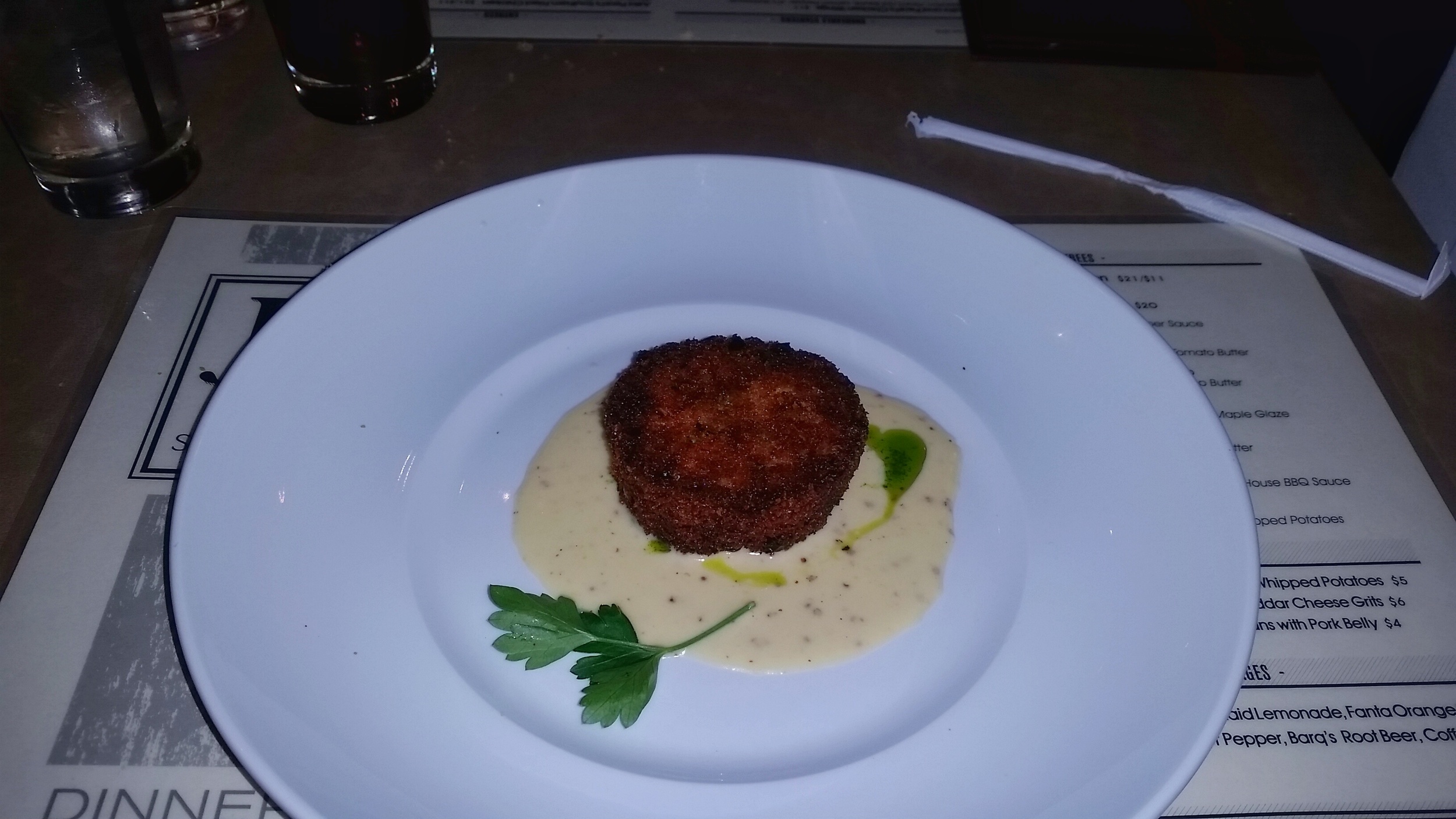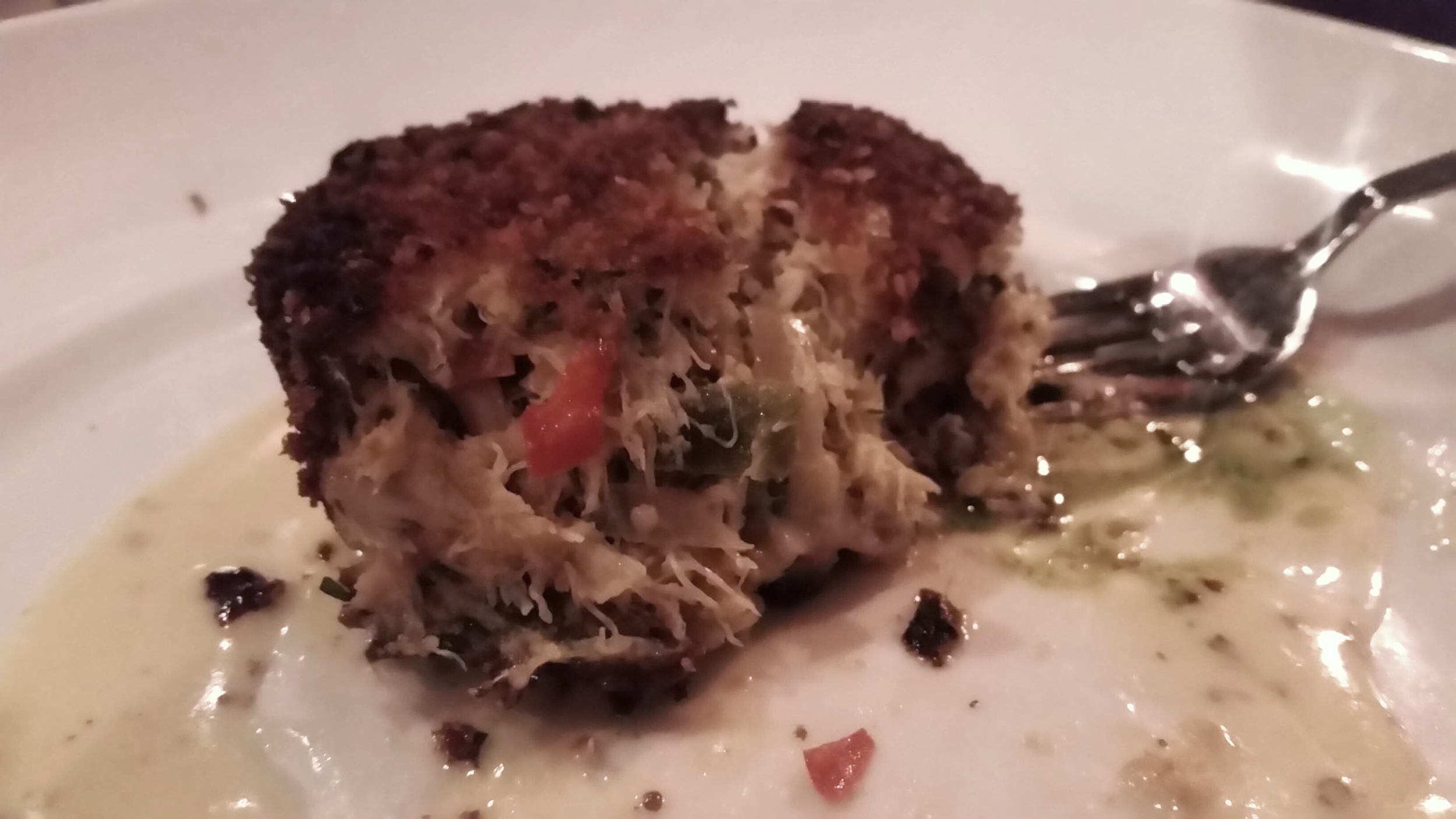 Jumbo Lump Crab Cake. If you've read some of my previous food reviews you'll know I'm especially particular about my seafood. I know all about Maryland Crab Cakes and I can taste a fake in a heart beat. The crab cake at Julia Pearl was amazing. Seriously, this thing tasted like it was straight out the Chesapeake Bay. All my east coast foodies...REJOICE! this would definitely qualify as an east coast crab cake.
Chicken Wings. I don't know what to say about these except that you should order them. Julia Pearl's appetizer menu is on point. I would have no problem going there and just ordering appetizers and drinks because they are super tasty and plentiful. These wings did not disappoint. The lemon pepper was fantastic and the barbecue was also a hit. My husband actually ordered the chicken wings as an entree during our second visit and was full.
Whole-Cut up Bird. This was a LOT of chicken. My husband and I ordered the whole chicken and we quickly realized that we could've ordered just half and had plenty. We had tons of leftovers after our meal and I actually felt bad that our waiter had so much food to box up. The fried chicken was delightful. Perfectly seasoned with a slight kick of heat. The fried chicken was the epitome of down home cooking. I found myself looking through the kitchen window trying to check if there were a gang of grandma's in the back frying chicken. The fried chicken had a great home cooked taste.
Mac and Cheese. Just do yourself a favor and order it. I have been having dreams about it ever since I left. I can best describe it as creamy, cheesy, macaroni goodness. It also had a slight kick, which made the flavor even better.
Mashed Potatoes. Perfection! Keep in mind that the sides at Julia Pearl are plentiful. My husband and I ordered individual sides but will share on our next visit. In my opinion, they can easily serve 2 people.
Pork Chop. This pork chop was incredibly tender, and grilled to perfection. It honestly reminded me of steak. I've had a lot of good pork chops in my life but this one was memorable. I loved the amount of char on it. Also my macaroni and cheese nicely soaked up the juice from the porkchop and collard greens which really made the flavor of this dish amazing.
Collard Greens. I love a good bowl of collard greens. Once again, Julia Pearl showed up and showed out with these. Was it Fantasia that had a song called Collard Greens and Cornbread? I found myself humming it as I ate these. Another solid pick on the menu.
The Desserts. Whew! I am tired from all this typing! But let's get down to the real champion on Julia Pearl's menu. Do not leave the restaurant without ordering a dessert. I ordered both the Red Velvet & Lemon Pound Cake. I loved how both dishes were served with ice cream which was the perfect accompaniment. However the real MVP at Julia Pearl is........(drum roll please)
The Red Velvet Cake! I have a had a lot of Red Velvet Cakes in my life but this one is a WINNER. This cake had me thanking God for giving me taste buds. Do not leave the restaurant without ordering it. Shout out to the Lemon Pound Cake for being runner-up. Now I might be a little biased because I love Red Velvet anything, but the red velvet cake was lifechanging!
Well there you have it! A detailed review about Julia Pearl Southern Cuisine. On both occassions, I left the restaurant feeling like my meal was "made with love." Do yourself a favor and check out Julia Pearl. Be sure to tell Vivian that Shasha sent you.
I'm looking forward to visiting Julia Pearl again for brunch. I've got my eye on their Chicken and Waffles plus I'm dying to try their Brisket.
Have you dined at Julia Pearl? What items did you love from the menu? Drop a line in the comments and let me know.